What is Mortgage Stress?
Commonly defined as a household spending
more than 30% income on home loan repayments.
Read More
Contact Us Today
We're here to lighten your load
Our mission at Mortgage Stress Relief is simple: to
find a solution that will give you immediate monthly relief.
Read More
Contact Us Today
Overcome Mortgage Stress: Find Relief and Take Control of Your Finances Today
What is Mortgage Stress?
How is Mortgage Stress Defined?
Mortgage stress occurs when a household spends over 30% of its pre-tax income on home loan repayments. This is a widespread issue in Australia. People who face major life crises, such as job loss, often enter what banks classify as hardship. However, with the rise of interest rates, and record-high property prices in capital cities, even those with steady employment can experience mortgage stress. These recent changes have led some individuals to stretch their borrowing capacity to its limits and feel the effects of financial burden. To alleviate mortgage stress, some homeowners turn to mortgage refinancing as a solution. By refinancing their mortgage, they can potentially secure a more favourable interest rate or loan term, reducing their monthly repayments and easing the pressure of mortgage stress.
Is Home Loan Pressure making you wonder how to make ends meet?
Are rising interest rates leaving you struggling to make ends meet? This could indicate that you are experiencing mortgage stress. You're certainly not alone; more than two in five Australian households are currently experiencing mortgage stress.
The perfect storm of rising food, gas, water, electricity, and fuel costs, combined with the RBA's decision to increase the cash rate, unleashed a world of pain on Australian households in 2022. First, the RBA's decision blindsided homeowners, as many expected no rate rise until 2024. Second, 2023's back-to-school fees added extra stress, severely impacting Aussies who bought in a booming market and have reached their financial limits.
If you spend more on your house repayments than you can afford, you are experiencing mortgage stress. House repayments may leave you without enough money to cover basic needs such as groceries, heating or cooling, medical expenses, and transportation. Now, you face the difficult and stressful decision of either reducing your expenses or giving priority to your mortgage.
Take some positive action, and we will help you find a solution to ease your Financial Strain.
You don't need to feel scared or embarrassed about having trouble servicing your home loan. Recent figures from Digital Finance Analytics showed that 1.52 million households in Australia were under mortgage stress at the start of February. That's around 42% of households! So don't be embarrassed; take positive action to fix your situation. Send us a message below, and we will help you find a solution.
Let Mortgage Stress Relief Guide Your Mortgage Refinancing Journey
Refinancing your mortgage can often seem daunting, especially with the myriad of loans and fluctuating mortgage rates in the market. That's where Mortgage Stress Relief steps in as your trusted broker. We understand that navigating the intricacies of home loan refinancing can be overwhelming. Our dedicated team is here to simplify the process, offering expert guidance and helping you find the best loans to suit your unique circumstances. We prioritise your peace of mind, ensuring you can confidently make informed decisions about your mortgage. With Mortgage Stress Relief by your side, you can take control of your financial future and secure a better mortgage rate for your home loan.
Why Choose Mortgage Stress Relief?
We're here to lighten your load.
We understand that living with mortgage stress is all-consuming, so our mission at Mortgage Stress Relief is simple: finding a financial solution that will give you immediate monthly relief.
So, if rising inflation and interest rates keep you awake at night, or you feel like your budget can barely stretch to cover your mortgage repayments and bills, let alone other important costs like your child's school fees, we want to help you.
Here's what sets us apart from banks and brokers in the mortgage refinancing industry:
We're not a large firm; we're a boutique company of experienced professionals who share a passion for helping people like you turn their financial lives around.
We only take on a handful of clients to deliver a high level of customer care, so we'll work with you one-on-one.
Our team won't ask you to fill out a mountain of paperwork to understand your financial situation; instead, you'll have a phone consultation with one of our understanding professionals.
At Mortgage Stress, we don't just offer mortgage refinancing: we explore a range of financial solutions and find the suitable one.
Best of all, in most cases, our service will come at no cost to you.
Free yourself from stress and anxiety, and get in touch with us today!
We'll map out a path forward that puts you back in control of your finances because we want you to thrive, not just survive.
Fill out the form below to request a callback.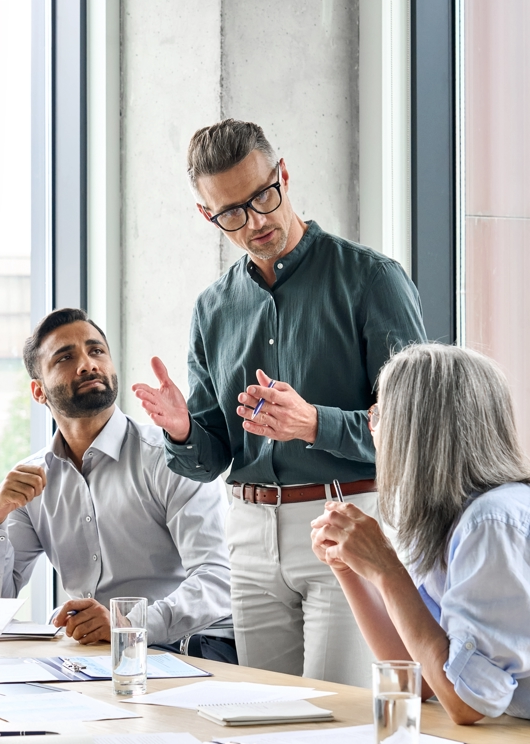 Let us help alleviate some of your stress.
Would you like to speak to one of our financial advisers over the phone? Just submit your details, and we'll be in touch shortly.
If you would like some further information, you can contact us via email. Send your query to info@mortgagestressrelief

au.
Note: Your details are kept strictly confidential as per our Privacy Policy.